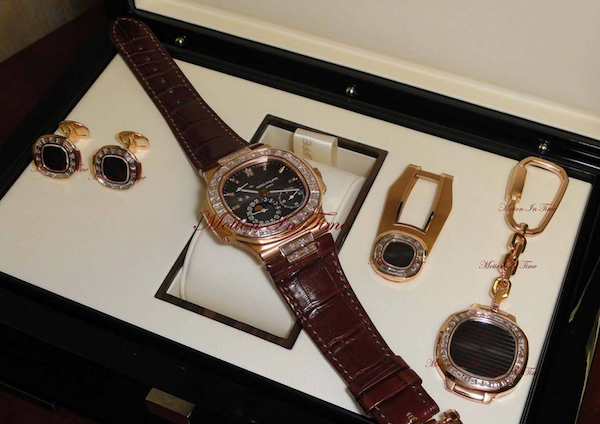 I was extremely excited to see the Patek Philippe 5724R Rose Gold Grande Nautilus Baguette Diamond Collection finally up for sale here in North America. It actually is the only one for sale in America currently and I cannot imagine you'll see this set anywhere else so if you're interested then time is ticking so to speak. I was extremely excited to see these items go up for sale and I only wish I could drop down to NYC right now to see them in person.
The good folks over at Motion In Time are the ones putting this up for sale and the price is set at $399,995 with 8.875% NY sales tax tagged onto that. The entire set includes the Patek Philippe 5724R Complicated Nautilus, the Patek Philippe Nautilus Baguette Diamond Cufflinks, the Patek Philippe Nautilus Baguette Diamond Keychain and the diamond money clip to go with it. Even better news, the set is brand new, never been worn and is in its original packaging.
The watch features a Moonphase with Power Reserve and comes equipped with a Skeleton Back & Micro-Rotor for your viewing pleasure. The timepiece alone is worth the price to me as it's one of only 10 in the world! The rest of the package is just the icing on the cake and I absolutely want that money clip!
If you're interested in purchasing this unbelievable set then you can either email them at [email protected], visit them in the NY diamond district 56 West 47 Street (Between 5th & 6th Ave) New York, NY 10036, or give them a ring and ding ding +1-(212)-302-1678.
About jessica:
I'm the editor for our luxury blog and the manager for our Facebook and Twitter accounts. I'd love to chat so get in touch via DM on Twitter or via [email protected]